ELITE CHAUFFEUR Ireland SERVICES
Professional Chauffeurs
Free waiting & without stress
Quality of service & overall reliability
Peace of mind
Quote & Reservation
Cancel Reservation
Elite Chauffeurs Services
PROFESSIONAL CHAUFFEURS

Travel with peace of mind !
All drivers and vehicles at Elite Chauffeur Ireland is insured and licensed.
FIXED & TRANSPARENT PRICE
There are no bad surprises .
Our prices are fixed and guaranteed when booking. They include fees , taxes and tips .
FREE
CANCELLATION

A change of program ?
You have a free cancellation with 24 hours notice for reservations made available on time.
WAITING FREE & STRESS FREE
Take your time .
Chauffeur Service Near Me, airport pickup includes 60 minutes free waiting , 25 minutes for all other races .
Dublin's Executive Chauffeur Service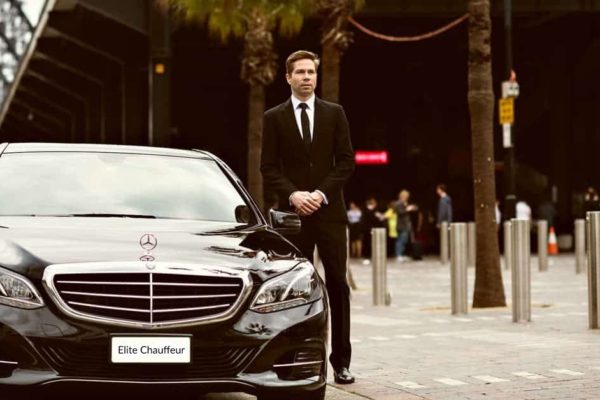 Door-to-Door Chauffeur Service from Dublin Airport
Hourly Plans for Executives Visiting Multiple Locations
Luxurious Private Tours Throughout Ireland
Weddings and Special Event Packages
Conferences and Business Events
Film Premiere Events
Group Transfers
Elite chauffeurs services Ireland
ELITE CHAUFFEURS VEHICLES
Quality vehicles
The drivers are punctual. Quality vehicles. The information is clear and precise. An ideal service for an airport transfer: competitive prices and no waiting. I highly recommend this service
Very good experience
Thank you for your professionalism, my company will call on your service regularly.
Choose Dublin's Premier Executive Chauffeur Service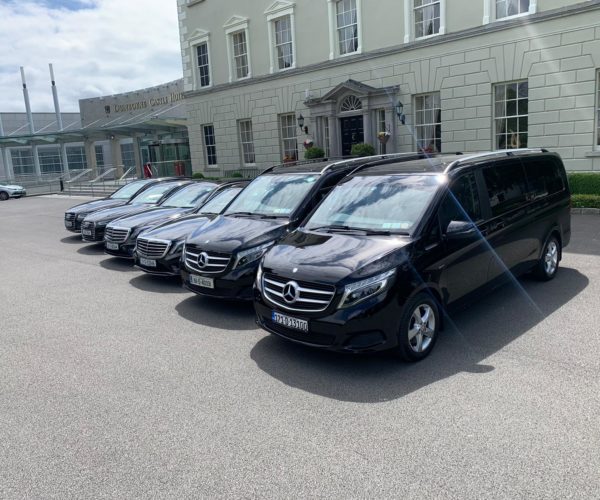 Transfer Service
Benefit from an airport, train station, hotel or company transfer with a personalized welcome thanks to our luxury transfer service.
Meet & Greet  Get the full VIP experience with our Meet & Greet service. Your driver will assist you with your luggage and in boarding your exclusive car.
Our taxi chauffeurs in Dublin can guarantee you trips all distances, up to your expectations. Therefore, whatever destination you choose, we can take you there.
Hourly Chauffeur Service
During your holidays or your business trip, our professional drivers will be at your disposal during the number of hours that you chose.
With their perfect knowledge of Ireland, our chauffeurs will help you managing all your travels.
Simple and fast, booking a Elite Chauffeurs  makes your daily life easier. All you need to do is reach us on our telephone line, use our reservation module or simply complete our contact form to order your chauffeur in Dublin or Airport , DUB, Train station , or Hotel.
E class – 70Eur/hr (min 2 hours )
S class – €90 /hr (min 2 hours )
V class -€90 /hr (min 2 hours)
Sprinter €110/hr (min 2 hours)
Contact us to check the availability and booking
A manager is ready to answer you at any time. We are available 24/7.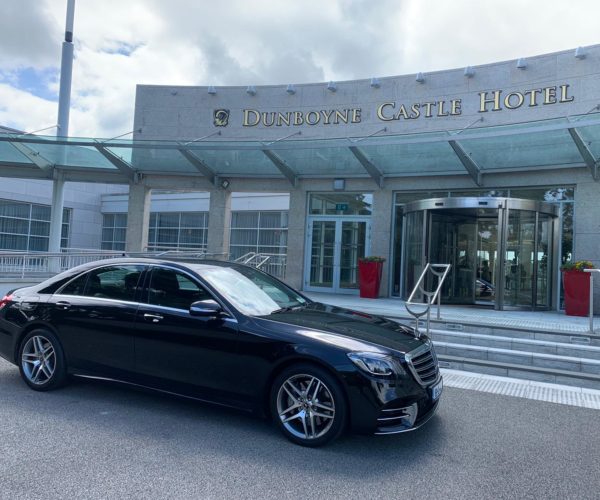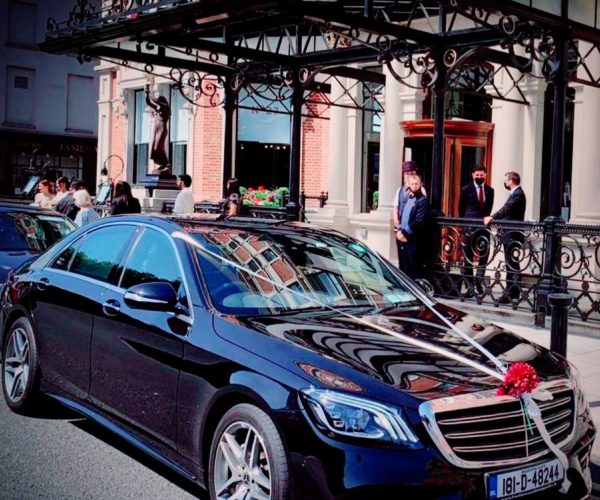 Weddings & Special Events - dublin
You are organizing an event like a seminar or a congress and you want to offer your guest a unique experience without worrying about logistics. Our professional team take care of the management of the transport plan.
For weddings, Elite Chauffeur make sure to get all the little details right—including decorative ribbons in your choice of color.
When using our service for private tours or weddings, you can also get elegant flower arrangement for the interior of the car, a bottle of fine champagne, and refreshments, including strawberries when in season.(Extra charges)
Ireland Chauffeur Travel ESTIMATED RATES IN DUBLIN
E-Class
Dublin Airport- CIty centre
Full /half day request by email
3 Passangers
3 Luggages
S-Class
Dublin Airport- CIty centre
Full /half day request by email
3 Passangers
2 Luggages
V-Class
Dublin Airport- CIty centre
Full /half day request by email
6 Passengers
8 Luggages
Sprinter
Dublin Airport- CIty centre
Please Email or Fill
Contact us For Availability
16 Passengers
16 Luggages
NEED MORE INFORMATION ?
Make a reservation for your Elite Chauffeur online via the reservation form or by call us on 00353 86 8095524
| Ireland Chauffeur Travel From-To | E Class | V Class | S Class | Minicoach |
| --- | --- | --- | --- | --- |
| Dublin Airport to Dublin City | €90 | €105 | €120 | €220 |
| Dublin Airport to Carton House | €110 | €125 | €140 | €260 |
| Dublin Airport to KClub | €120 | €140 | €160 | €260 |
| Dublin Airport to Powerscourt Hotel | €140 | €160 | €175 | €280 |
| Dublin Airport to Druids Glen | €160 | €190 | €200 | €315 |
| Dublin (City/Airport) to Ashford Castle | €520 | €620 | €660 | €825 |
| Dublin (City/Airport) to Dromoland Castle | €500 | €600 | €640 | €805 |
| Dublin (City/Airport) to Adare Manor | €470 | €560 | €625 | €760 |
| Dublin (City/Airport) to Ballyfin | €260 | €300 | €325 | €450 |
| Dublin (City/Airport) to Mount Juliet | €320 | €380 | €410 | €545 |
| Dublin (City/Airport) to Kinsale | €600 | €720 | €750 | €950 |
| Cork (City/Airport) to Kinsale | €100 | €115 | €140 | €240 |
| Cork (City/Airport) to Dublin (City/Airport) | €550 | €655 | €680 | €870 |
| Cork (City/Airport) to Killarney | €215 | €255 | €285 | €390 |
| Cork (City/Airport) to Shannon Airport | €285 | €335 | €360 | €490 |
| Cork (City/Airport) to Adare Manor | €220 | €260 | €290 | €400 |